Mar 10,2022
Wanhuida Partner speaks at INTA March Flash Briefing
Total word count:1275
On Thursday March 10, 2022, the "INTA Flash Briefing on China's Judicial IP Update" is held virtually via ZOOM Meeting at 9:30 am - 11:00 am (Beijing time).
Presented by the INTA China Task Force of Enforcement Committee, the Flash Briefing is moderated by Monica Su, INTA Senior Representative Officer, China Office. Over 70 practitioners around the globe have participated in a most heated discussion of latest judicial developments in China, ranging from hot-button issues of bad-faith trademark filing, cutting-edge solutions of unfair competition regulation and malicious IP lawsuits, as well as new policy changes of proceedings for the administrative trademark cases.
The event features thought-provoking discussions over topics including: "Courts' Measures of Fighting against Bad-Faith Applications", "Damage Awards for Malicious IP Lawsuits", "Anti-Unfair Competition Route Tackling Trademark Warehousing", "Pre-trial Mediation & Retrial Practice Changes" and "Formality Issues with Beijing IP Court".
The event is concluded by Seth Hays, INTA Chief Representative, Asia Pacific.
Zhu Zhigang, Partner at Wanhuida Intellectual Property speaks on "Anti-Unfair Competition Route Tackling Trademark Warehousing".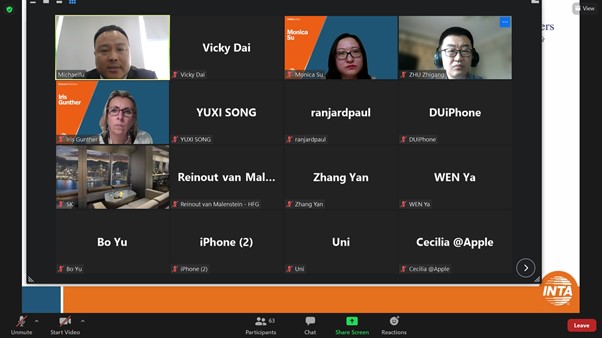 New and exclusively for members, INTA Flash Briefings are interactive and informative conversations with INTA experts and brand owners on emerging policy changes affecting trademarks and related rights across the globe.