Mar 24,2021
Wanhuida Partner speaks at IPBC Connect 2021
Total word count:1257
The IPBC Connect 2021, which is a virtual iam event, kicks off with a week of high-level discussions involving the world's leading IP experts on 22nd March 2021. From 22-26 March, more than 20 individual interactive digital sessions are held, each designed to facilitate the exchange of information and insight, benchmarking and the sharing of the best practice in key areas of strategic IP value creation.
Each day features a keynote address from a major industry figure followed by live breakout discussions in a variety of formats, including masterclasses, open discussions forums, solution rooms and closed-door, invite-only boardrooms.
March 24's program starts with the opening remarks and keynote speech of Ashutosh Singh, General Manager, IP, Reliance Industries followed by parallel "Open Discussion Forum: Riding the next tech wave" and "Masterclass: Hands-on FRAND". The Masterclass focuses on discussion over a string of landmark decisions that have upended the SEP landscape, novel deal structures, negotiation tips and what prompts licensing executives to come to the table for negotiation.
Johnson Li, Partner of Wanhuida Intellectual Property speaks at the Masterclass. Fellow speakers include David Giardina, Partner, Sidley Austin, Chitra Iyer, Director and Program Leader, Licensing, Philips, Michael Lasinski, Senior Managing Director, Ankura as well as Jason Wu, Senior Manager, Patent Licensing, Dolby Laboratories.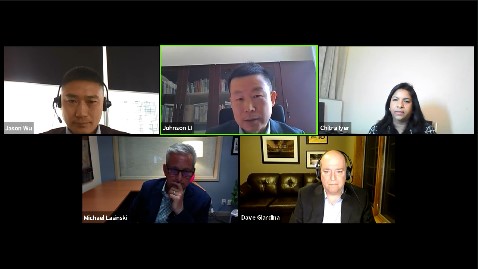 Johnson Li (Middle)