May 03,2022
Wanhuida Partner speaks at INTA China Case Law Update
Total word count:1305
On Tuesday May 3, 2022, the "China Case Law Update – Staying Ahead of the Curve in Punitive Damages Calculation", is held during the 2022 INTA Annual Meeting.
The regional update offers, a global audience of brand legal practitioners, insider analysis on key punitive damages decisions rendered by the China courts over the last 18 months. Speakers address trendsetting cases, pivoting the scope of punitive damages application, determination of calculation base and multiples, with a particular focus on the conditions of "intentional" and "serious circumstances" and how they factor into the methods of calculating damages overall. Speakers provide a practical view of the calculation of punitive damages at both an operational and policy level by recapping the developing trend of legislation and practice regarding punitive damages, discussing how other avenues, such as recovery of attorney fees, evidential rules may play their role in the calculation of damages, and sharing the best practice and valuable tips of claiming high damage awards.
The Update is moderated by Monica Su, Senior China Representative, INTA. Speakers include Professor Zhang Weijun, Director of IP & Competition Law Research Center, Tongji University, He Wei, Partner, Wanhuida Intellectual Property, among others.
The firm's Partner and Management Committee Member Dr. Huang Hui and Partner Li Yunquan also contribute to the planning and preparation of the regional update.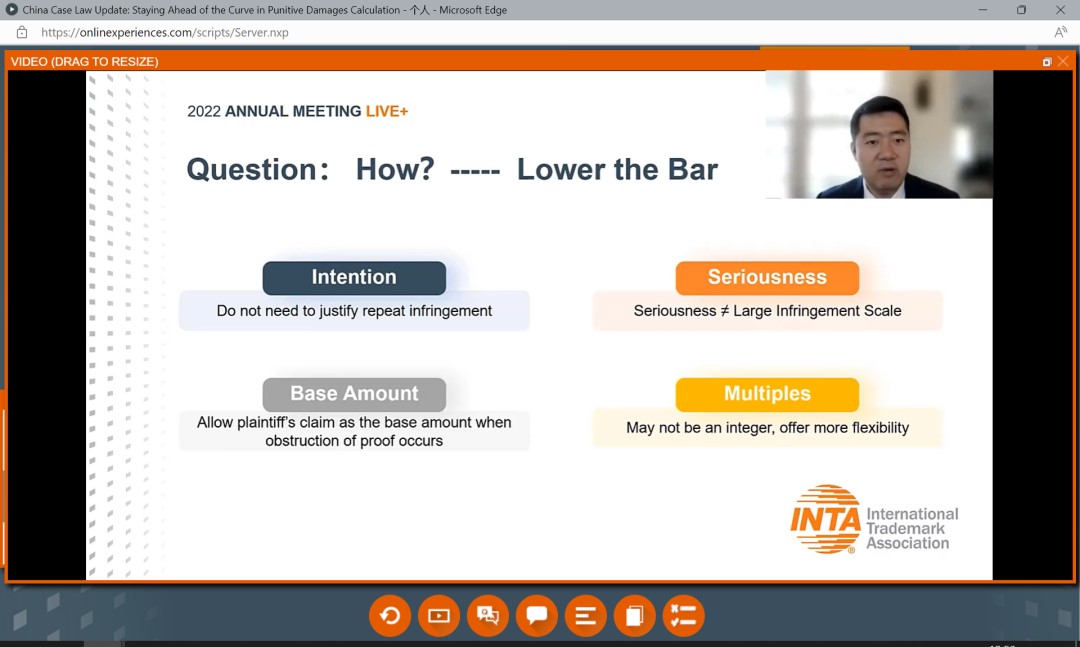 Wei He speaks at the regional update