Feb 12,2023
Wanhuida Ranked by China IP Magazine in 2022
Total word count:1625
On 10th - 12th February 2023, the "13th China IP International Annual Forum & 2023 Annual Conference of In-house IP Managers in China", which is launched by the "China IP Magazine", is held in Beijing.
The Forum, featuring "Leveraging Opportunities & Forging ahead", focuses on exploring corporate intellectual property management and legal compliance in the post-Covid era and offers a forum of discussion over the reforms, challenges and growth opportunities of China's intellectual property industry. The Forum brings together a full house of attendees, including prominent figures from government agencies, judiciaries, academia and in-house counsels.
The opening ceremony is officiated by heavyweight speakers including Professor Guo He, Vice President and Secretary General of the Intellectual Property Law Association of CLS and Associate Dean of Intellectual Property Academy of Renmin University of China, Qin Yuanming, Chief Judge, Civil Adjudication Tribunal No. 3 (IPR Division), Supreme People's Court (SPC), AIPPI President Shoichi OKUYAMA, as well as INTA CEO Etienne Sanz de Acedo. The ceremony is hosted by Tommy Zhang, President and Editor-in-Chief of China IP Magazine.
In the evening of 11th February, the winners of the "2022 Outstanding In-house IP Managers in China", "2022 Outstanding IP Service Teams in China", "2022 Outstanding Corporate IP Management Teams in China", "2022 Most Recommended International IP Agencies", as well as "2022 China IP Most Influential Figures" were announced.
Wanhuida Intellectual Property is included in the "2022 Outstanding IP Service Teams in China". The firm's Partner Zhang Han accepts the prize on the podium. Partner Ming Xingnan attends the event.
Launched in 2011, the Forum is lauded as one of the most influential annual events in China's IP community.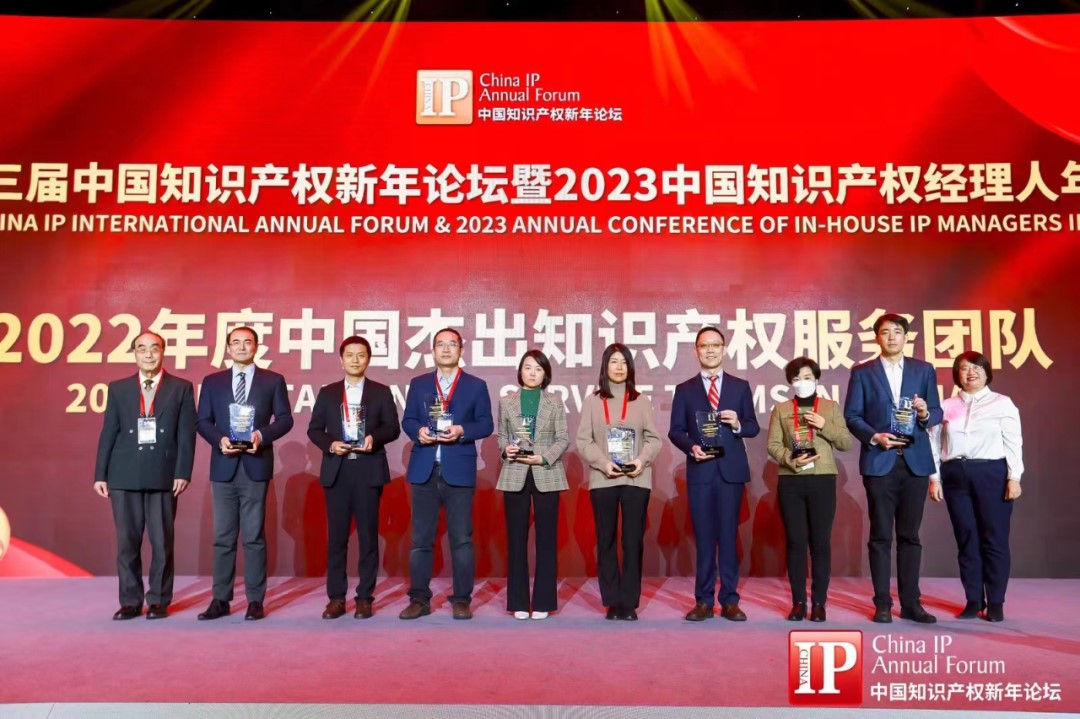 Zhang Han (Second from right)