Sep 10,2022
Wanhuida delegation attends 2022 AIPPI World Congress
Total word count:1904
From September 10-13, 2022, 2022 AIPPI World Congress is convened in San Francisco, United States. The Congress features the famous AIPPI Study Questions, thought-provoking plenary sessions, intriguing panel sessions, AIPPI Café (roundtables on a variety of hot topics), unique events like Women in AIPPI and the AIPPI Young Members Forum, among others.
The Congress has four dedicated pharma sessions where panelists focus their discussion on matters like "IP & COVID - Two Years Later", "Bolar Exemptions, Patent Linkage & More: Any Path for Harmonisation?", "Personal Healthcare Data – Free for All?" and "Full Disclosure: Impact of Clinical Trials on Pharmaceutical Patenting". Its ten panel sessions cover a slew of hot-button issues including inter alia "Proving Use Across Jurisdictions – A Monumental Task", "Films, Games, & Books: Use of 3rd Party Trademarks", "NFTs: Blind Date?", "Metaverse: Real World IP issues", "Composite Trademarks: How Different is Different?", "Mind Your Words: Filewrapper Estoppel Role in Prosecution and Enforcement".
Headed by Founding Partner and Management Committee Chair Bai Gang, Wanhuida Intellectual Property delegation consists of Partners and Management Committee members Ren Haiyan and Dr. S. Sam Li, Partner Duan Xiaoling as well as Senior Associate Sun Weifeng.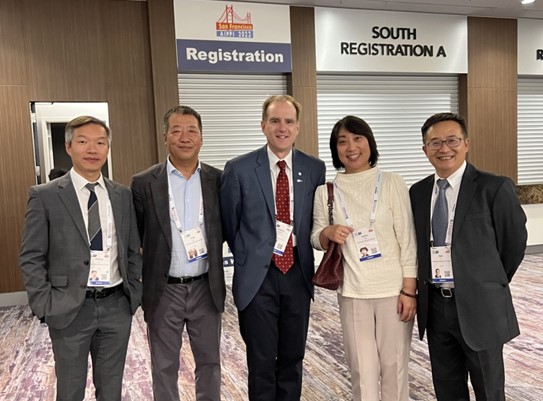 Wanhuida delegation posing for a group photo with an acquaintance
On September 10th, Dr. Li and Sun Weifeng attend Study Committee Meeting – PATENTS in person. Duan Xiaoling attends virtually an array of study committee meetings and plenary sessions. The delegation leverages the Congress to engage with and network with various trademark and patent practitioners all over the world.
The International Association for the Protection of Intellectual Property, known as AIPPI (Association Internationale pour la Protection de la Propriété Intellectuelle), is the world's leading not-for-profit association dedicated to the development and improvement of laws for the protection of intellectual property. It is a politically neutral, non-profit organization, based in Switzerland with about 8000 members worldwide from more than 131 countries.